Every day at the moment, people are being admitted to hospital with complications caused by coronavirus.
They're alone – because relatives can no longer accompany them.
They are often unable to communicate because their ability to breathe is compromised.
This means that doctors are having to make best-guess decisions
about your wishes because your next of kin don't know the answers to the questions they are being asked.
Medical staff are having to spend valuable time second-guessing what kind of treatment you might, or might not, want.
But they don't want to do this.
What doctors DO want – and what they NEED
is for you to have clearly documented YOUR responses to the questions they might need to ask…
And for YOU to have shared that document with anyone who supports you (eg your partner, your children, your carers).
It needs to be a hard copy placed somewhere in clear sight for medical staff who might have to attend your home.  Another copy needs to be with relevant family members, and a copy placed on your medical files.
This document is called an Advance Statement.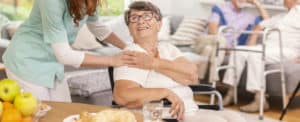 It's a simple, but VITAL document that records your responses to five questions.  It is vital at the best of times, because we never know what might happen to us, but it is especially vital now, in the light of coronavirus.
You read the questions, consider your answers, record your responses in the document, and ask everyone in your family to do the same.
That may feel more difficult now it can't be an in-person conversation, but it still has to be done. Because once that has happened…
you can store your Statement in the required places and carry on with your life, safe in the knowledge that you've eased some of the burden on any medical staff who may be called on to care for you, and you've taken the pressure off your loved ones who now will not have to make difficult decisions on your behalf.
Elizabeth Harley: I attended Jane's online workshop as I was feeling a bit thrown off balance by the Covid 19 situation. Being interested in Buddhism, I'd previously done a fair bit of work around impermanence and preparation for death, but none of my previous work quite did it for this situation. Jane's course was the missing bit of the puzzle for me. Jane is a gifted teacher, who can both inspire and convey necessary knowledge and understanding with clarity and gentleness, leaving plenty of room for individual responses, while creating a safe space for everyone through holding appropriate and helpful boundaries.
To make it super-simple to get your Advance Care Statement completed, I'm now delivering the fourth of these workshops, after the others all sold out!
Get Your Advance Care Statement Done! Workshops
Where, in 90 minutes, as part of a small online group, you will receive:
An advance care statement template, along with relevant wording for you
The key decisions you will need to make, and the considerations of each decision for you and your family
A distribution checklist so you know where to store your completed statement
During the workshop there will be an opportunity for you to have a 1:1 Focus Seat.
What's that?  I'll answer your particular questions, discuss your concerns and discover answers - and everyone else will learn from that too.
You'll leave the workshop with a completed advance Coronavirus Care Statement, ready to discuss with your loved ones.
Plus I will provide you with additional information, sharing my format for how to broach the subject with your family
Shirley: Taking this workshop was a great way to kick-start the process - and at a time like this I can't stress how important it is to have these conversations! Jane's workshop was clear, concise and friendly and I felt very supported as she talked us through the process. The follow-up information shared with us all via email was particularly constructive and we now have our ACC Statements 95% completed. Just need to get them signed and witnessed, and filed with our GPs."
Ann: "I was nervous about doing this class as these are challenging things to discuss, but Jane made it easy to calmly consider my options and reach decisions which relieved my mind. My statement is almost complete and I am now set on completing my end-of-life plan with the help of Jane's clear instructions. It will ease my mind to leave my affairs in order so that my daughter will not have the added stress of trying to second guess my wishes."
For just £27 (approx $35US), seats are LIMITED to make sure I can attend personally to all on the call who wish for that, so do please sign up promptly!
These, and the five previous workshops, have all sold out!
Please contact Jane to register your interest for another date