Advance Directive Masterclass
Advance Directive Masterclass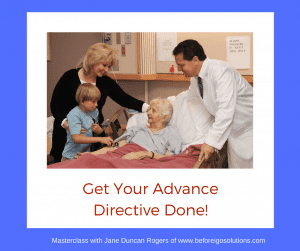 Know what you want towards the end of your life, and what to do to get it!
 I work with you on this Masterclass to help you get exactly this. 
if you want your end of life to be as you would like, then identifying how you wish your last days to be, what kind of treatments you would want (if any), and just what is important to you is absolutely crucial. Statistics have shown that if you do this, you are much more likely to receive the kind of care you want.  
This class has now happened – but you can still purchase the recording by clicking the link below. 
Reflecting on Your Values – downloadable document to help you get clear on these
Values History Statement – to enable you to get specific about what health situations you would want life-sustaining treatment for, and what not
An example and template of an Advance Directive to help you make yours
 [su_button url="http://beforeigosolutions.com/product/advance-directive-masterclass/" target="blank" style="glass" background="#3F265F" size="10″ radius="5″]Book Your Place Now[/su_button]   
What people said:  "I'm now much clearer about the types of statements I need to make and the decisions I need to think about".  J.O. England
"Thank you for a really informative and interesting session"  C. D, England
"It is really helpful to hear about the experiences of other people, not just for myself but because when I talk to others about it they start asking me questions which I can't always answer.  The more we continue to share experiences the better". K. C, England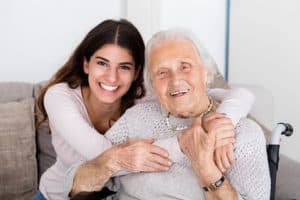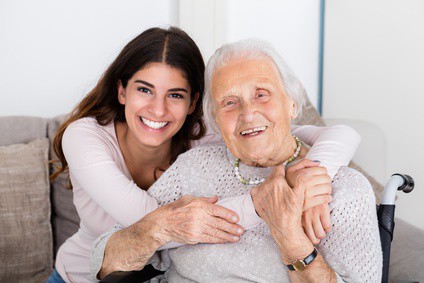 Are you concerned that when the end of your life is approaching, you won't be attended to in the way you want?
If so, you need to take care of it now. Research has shown that 57% of people only want 'comfort care' at the end of their lives. But our medical professionals are trained to keep you alive. So if you know you only want to be kept comfortable, you have to be able to state that.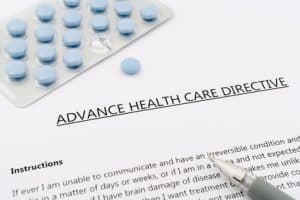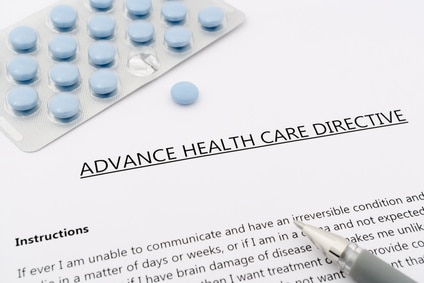 Completing an Advance Directive (aka Living Will) in advance of the end of your life is one way in which you aid your chances of being treated in the way you wish.
By taking the time to consider what is important to you and what is not, we will lay the groundwork together to enable you to address specific situations you are concerned about. 
It's just £35 ($45)  for this two-hour, online Masterclass. By purchasing the recording, you can stop and start it as you wish, joining in with the questions and reflections at your leisure.  You'll be able to reflect on what you would want;  and learn from the shared wisdom, tips and experiences of the group. 
Scroll down to find out more about what you'll get, then book your place below and join me in finally getting your Advance Directive done!
 What you get on this Masterclass
How to Identify Your Values About End of Life
Knowing what is valuable to you and what is not is crucial in helping you become clear about what to actually write down in an Advance Directive. In the Masterclass, you'll become clear about what is important to you and why, and how to translate that information into specific statements. 
The No 1 Obstacle Preventing You From Completing Your AD and What To Do About It
I will share with you what this is and exactly how to overcome it, so you can easily progress forward with getting answers to your questions, and putting them on paper.
The Confidence and Courage to Actually Make Your Advance Directive
It takes guts to face up to this kind of thing, not least because of old superstitions that if you stare death in the face, then it'll make it happen sooner. But on this Masterclass, with my help, your courage will grow as you learn from me and from others, to the point where you are able confidently to put your wishes down in writing, and feel the relief and peace of mind that brings. 
Sign up here now to learn just what you need to do in your situation to get your Advance Directive completed!
 [su_button url="http://beforeigosolutions.com/product/advance-directive-masterclass/" target="blank" style="glass" background="#3F265F" size="10″ radius="5″]Book Your Place Now[/su_button]
"I will now finally sit down and write my AD. I am in good health, but I cycle in a busy town every day and I am more aware now that I do not want to be caught out without anything in writing about what my wishes are. Thank you so much."  T.F. England