Attention if you know you need
to do your end-of-life plan, but you're just not getting round to it!
PRINT WORKBOOK NOW ALSO AVAILABLE! (UK only)
Choose the digital copy for immediate download to complete on your computer and get started NOW.
Or get the print version (UK/Europe only) and sit down with your pen, ready to fill in your answers that way
(You'll be directed to our secure checkout page)
Would you like to:
know ALL the questions that have to be answered about end-of-life to cover absolutely everything?
finally get going on something you've been meaning to do for ages, but just don't get around to doing?
have everything kept in one place, so it's easy for you and your family to locate?

be certain you haven't forgotten anything?

minimize the chance of family arguments after you're no longer here?

(You'll be directed to our secure checkout page)
The Workbook covers the 8 components of a good end of life plan.
Legals - covering wills, trusts, powers of attorney, and in some countries, the advance directive or living will
Last Days - linking in with your life values and advance directives this section also covers just how you want your last days to be
Household - a frequently forgotten area, there's a whole lot of questions to answer here about how your household works, not to mention how your financial life works!
Funeral - did you know there are 25 (at least) questions to be answered about the organisation of your funeral?
Digital Life - these days you live on well past your death, unless you make a decision now about whether you want that or not
Living Legacy - your live, creative piece about your life and how you want to be remembered. Invaluable for those left behind.
Shared - none of the above is possible without conversations about it all
Written Down - the presence of the Workbook itself covers this vital final part of a good end of life plan.
Thinking about and writing your answers down will give YOU peace of mind now, and give your relatives less hassle, heartache and hopelessness after the end of your life, just like I have experienced in relation to my parents, after they died in the same week in 2018.
You will also create peace of mind for yourself
This is huge and not to be underestimated, not least in the amount of energy it takes NOT doing something you know is a good idea! And after your death it will bring your loved ones:
Comfort
Less administrative hassle
Reduced costs
Solace in a time of stress
Practical knowledge they were loved
Save them the burden of difficult decisions
So I highly recommend you complete this Workbook. It is probably one of the most practical and loving things you can do for those you care about.
I know it's a bit of a gloomy subject, but take it from me, it can actually be enjoyable!
I feel empowered
"Very well-thought-out workbook and handouts. I feel optimistic about my end of life arrangements and indeed about ageing without children; I feel empowered now and no longer a victim of circumstances".
Very Helpful
"Thank goodness. Alex completed your workbook.  I'm so glad she did; her instructions were quite clear, which I found very helpful".
Comprehensive
"Very comprehensive manual, all in one place, so manageable and I can't lose bits of paper as I usually do".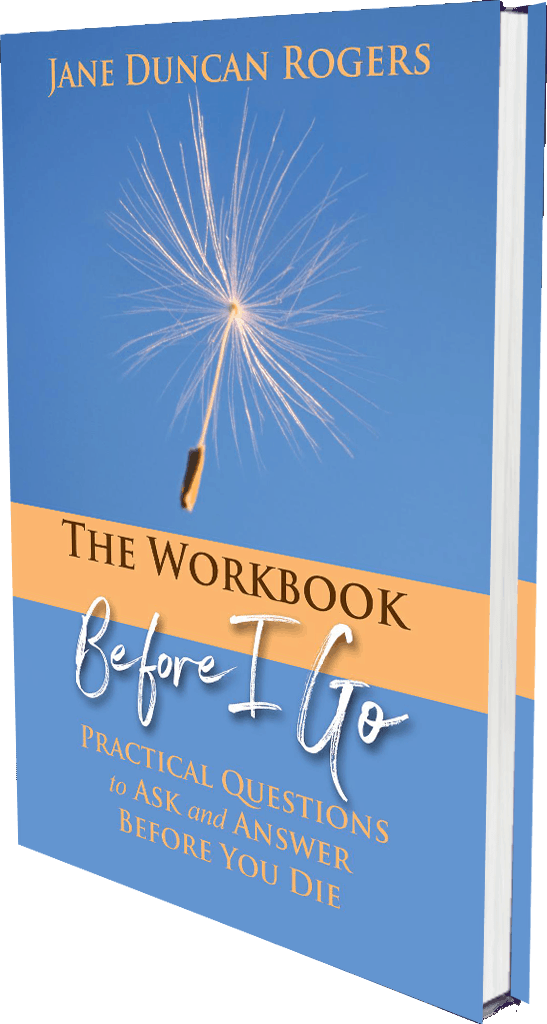 (You'll be directed to our secure checkout page)