Yesterday I received a text from someone saying 'quick, call in to Radio 2, they are talking about the importance of creating written instructions about what you want at end of life!'
I was about to board a train at that very moment, so I haven't even heard the programme yet, let alone call in, but it illustrated a point:
This end of life stuff is becoming more and more mainstream!
Which is a jolly good thing, seeing as death is going to happen to 100% of us!
There is more and more information available, and an increasing amount being broadcast in all the various forms of media.
BUT…
(and this is a big but!)
if you learn about all this stuff, but do nothing with that information, then it doesn't matter what kind of conversations you've had, what thoughts you've got clear on, or what decisions you've made in your own head.
What really needs to happen is that people TAKE ACTION instead of feeling mildly guilty that they haven't done anything with what they know.
Sadly, out of every 100 people who say they know it's a good idea to have done an end of life plan, 80 of them will not do it.
So if you feel called to help people
Face up to the one thing that is sure in life
Get their thoughts down in writing
Create a sense of local community around end of life
Then please check out the information for the 2020 intake of those who want to become licensed facilitators of the Before I Go Method of end of life planning!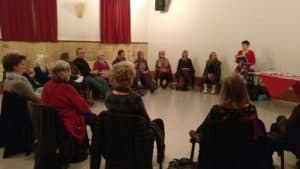 You could be leading a group, or working with people one to one, like I do. (Here I am in England, with one of the in-person groups).
Check out the training here https://beforeigosolutions.com/big-training/
I am proud to say this course received full accreditation from the CPD Certification Service in the UK just recently!
Due to this, there will be a price rise but not until 11th October, however that is the end of this week, so if you are interested, please check out the info promptly! https://beforeigosolutions.com/big-training/
Use the Before I Go Method to create an End of Life Plan in 10 straightforward steps – without losing focus and giving up!
Get your end-of-life plan done methodically, without leaving anything out. This is the resource that will enable you to get it finally done and dusted. Probably one of the most practical and loving things you can do for those you care about.
How prepared are you? Take the Before I Go quiz now to find out.