I've a question for you!
It's National Good Death Week here in Scotland (also known as Dying Matters Week in England) and all over the country there are events taking place to highlight this topic, the one thing we all know for sure will happen. It's probably the only thing we know will definitely happen, in a world of increasing uncertainty!
But we don't like to look at it, do we?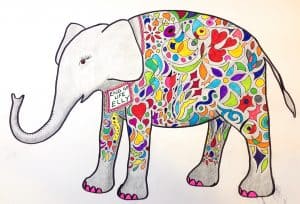 It's the elephant in the room, and here she is. My drawing of End of Life Ellie when I realized she was hidden in every room in the country.
But she's come out to play this week, at least in the UK!  So what might she have to say about what a Good Death is?
Most people when thinking of this (if you have the courage to think about it at all!) say that they want a pain-free death.
Let's assume that that is possible. So here's the question:
What else would you put on your list for a good death?
Post in the comments below and lets see what comes up.
Use the Before I Go Method to create an End of Life Plan in 10 straightforward steps – without losing focus and giving up!
Get your end-of-life plan done methodically, without leaving anything out. This is the resource that will enable you to get it finally done and dusted. Probably one of the most practical and loving things you can do for those you care about.
How prepared are you? Take the Before I Go quiz now to find out.