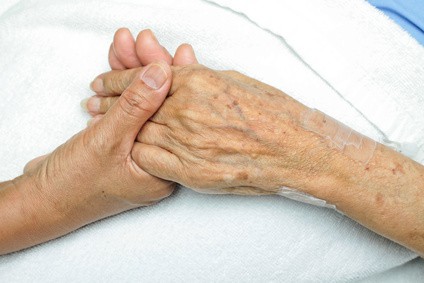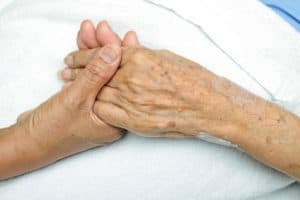 Marie's son was distraught. He had told his Mother he would have the doctors do everything they could – but now they were saying that they didn't know how long she would be able to breathe on her own without the tube, nor did they know how long she might last if the machine continued to do most of the breathing for her.
Marie looked so sad as she lay in the hospital bed, a breathing tube in her mouth, oxygen mask on, and wired up to all different kinds of machines.  Her son at her side, he could see she didn't want all these wires around her. She was very weak, suffering from a terminal illness, and only able (sometimes) to nod her head slowly or shake it gently from side to side to make her wishes known.
The doctor tried to find out what she would want – to have the breathing tube kept in place or to have it taken out.
Her son knew he had to make a decision for his Mum, but found it hard without being able to hear her opinion. Eventually, he was able to see a faint nod of her head when she responded to the doctor's clear question 'Do you want me to take the breathing tube out, no matter what happens?'.
This family were lucky – their mother was still able (just) to communicate her wishes.   But so much of this could have been different and more dignified if she had had an Advance Directive in place.
(The doctor did respond to Marie's wishes and took the breathing tube out. She passed away peacefully the next afternoon, with her family by her bedside).
What is an Advance Directive?
Called slightly different names in different countries, an Advance Directive (aka Living Will,  or Advance Healthcare Decision)  allows you to state in advance what kind of treatment or non-treatment you would like to receive towards the end of your life.
It is a record of a decision you have made yourself, to be used later if you lose your mental capacity. Hopefully, of course, it will never have to be used. It may or may not be a legal document in your country or state.
Without one, your power of attorney (if you have one) may not know what you would like to happen, should they need to make decisions on your behalf.  But there's a few other things that are necessary to think about before you can make your Advance Directive.
Here's 5 points you need to know before you make your Advance Directive
What are the values you hold dear in life? If you don't know what these are, it will be much more difficult to make decisions relating to the end of your life. For instance, Debbie knows that God will take care of her no matter what, and it is not her job to interfere in anything the Doctors say, as they know best. It's important she communicates this, both to her family and her doctors.
It helps your family if they know they are carrying out your wishes. Even if it is hard for them to come to terms with what you have said you want, it brings some comfort to know they are able to take care of you in this way – even if that means allowing you to die. The Advance Directive will tell family, friends, doctors and nurses under what conditions you would want to be kept alive or not.
Time and money can be saved. If you have the courage to face up to the fact that one day your life will come to an end, and act on this, not only will you benefit, but others will too. It has been shown that those who prepare Advance Directives are likely to use less medical resources, saving everyone time and your family or the government money.
It will prove invaluable to your Welfare Power of Attorney, who may need to act on your behalf if you are incapacitated for whatever reasons and cannot do so. It helps them to know what you would have wanted if you could have said so yourself.
It gives you some sense of control. No-one really knows how their life will end, of course, but for most people it is not suddenly. That means you are likely to have a period of time where your Advance Directive instructions could be very useful.
It seems a sensible idea to do this, and yet most people don't do it – many don't even know what an Advance Directive or Living Will is.
I know how important this is because my husband had answered a few questions I had asked him, well before he was on his deathbed. (You can read about these in my book Gifted By Grief ). However, at that time, I didn't know about Living Wills or Advance Directives, and we did not cover every situation. I believe the ending of his life could have been easier had we done this together.
But now you do know about this, and so I suggest you take an action now that moves you towards completing an AD for yourself, and help to avoid Marie's situation.
Creating an Advance Directive is one of the items we cover in our Before I Go Method Course – check it out here.