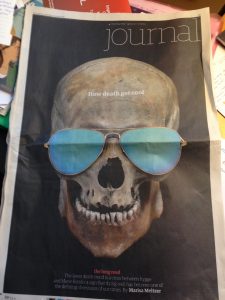 If you're in the UK, you may have read in The Guardian journal section this weekend 'How Death Got Cool' – a discussion stating that 'dying well has become one of the defining obsessions of our times'. Whether you agree with that or not, death is here to stay, so long as we are alive!
I was thinking about that this morning in the shower, when I looked at my shampoo and realised that all the bottles had belonged to either my partner's late wife, or my step-daughter, Jackie, who died last summer. What do you do with this kind of stuff? Is it macabre to keep it, and/or to use it? Is it sensible? This is the kind of detail we cover in the training programme that starts next month.
And you may be interested in applying for one of the Before I Go training places – I have put the details after my name below, so you can see just what you would be learning about, and be able to take out into the world.
It's an ONLINE course (so doesn't matter where you are based) over 5 months, and afterwards you will be licensed to offer 1:1's, run these courses yourself, or use the materials in a way that suits you and your business.
We have a grand bunch already enrolled, with some still making up their mind, but right now, we have just 3 places available for what will be an illuminating, personally fulfilling and educative journey through the waters of dying, death and grief – and how to bring that to others so they too can benefit. If you want one – check out the details and email me jane@beforeigosolutions.com, to arrange an initial conversation.
Looking forward to hearing from you, a budding Before I Go Method Licensed Trainer!
Love Jane
MODULES for Before I Go Training Course Pilot 2018 (begins Feb 15th 2018)
Section 1: LEGALS
Module 1: Introduction and Wills and Powers of Attorney
Overview of course; purpose and focus of the course; guidance and rules
Legals: What they are, why we have them, how to work with solicitors, how to find one who will support you; how to advise people; how to deal with questions.
Module 2: Advance Directives
What they are; how to write them; intro to values and how to intro them to others; understanding the emotional impact of this; guiding people to make them; common questions.
Module 3: Assisted Dying
Legal position – and what to do; ethics and morals of such; options other than assisted dying and how to communicate about these.
Section 2: DYING & DEATH
Module 4: End of Life Preparation
Preparation for death – how much do they want to do?what can they do?; language to use; understanding what happens when someone is in dying process; definition of 'end of life'; financial affairs – trusts, accounts, inheritance tax etc
Module 5: End of Life Practicalities – Bucket lists; facing facts; last days wishes; how this ties in with advance directives and POA's; workbook completion and how to facilitate this.
Module 6: What is death?
Religious beliefs; importance of ritual; exploration of major beliefs and attitudes; importance of leaving out your own beliefs/religions and how to deal with others thoughts and feelings.
Section 3: AFTER DEATH:
Module 7: Who am I and what is a body?
Understanding the difference between who you are and the body that encompasses this; why knowing this is important; wow to embrace this for yourself and introduce it to others; working with different belief systems; energy work and its importance in this area.
Module 6: Funerals
Funeral wishes; Funeral costs; DIY – what you need to know re practicalities; care of the body at home; celebrancy and other options; funeral costs and how to keep them down.
Section 4: GRIEF
Module 8: Bereavement
Models of loss; resilience; impact of grief – behavioural, spiritual, emotional, mental, physical, social; how grief impacts both at home and at work; what to do when faced with this; dealing with complicated grief.
Module 9: Building a new life
Possibilities; working with those who are grieving; what to say – language; accepting what is; how to embrace a new life that may not be wanted.
Section 5: COMMUNICATION
Module 10:Listening and Action-taking Skills
Importance of listening; how to give feedback; judgments vs curiosity; how not to take things personally; how to communicate information so it can be easily heard; communicating with those who don't want to know; how to enable action to happen; what to do when it doesn't.
Module 11: Working with Groups
Group dynamics; communication skills within groups; how to run a weekly BIG group – practicalities; dealing with conflict in groups. What to watch out for.
Module 12: Completion and What's Next
Learnings, takeaways, how to implement; how to set up in business (if needed); basic marketing skills. Further training available in how to market your courses to make a bigger impact.
Practical Details:
Time Commitment:As well as the thirteen 90 minute calls, we will have a private Facebook group for you to engage in in between the modules. This is an excellent way to ask questions, share your knowledge, post useful information, and in which I will be interacting every day. There will also be some PDF's, MP3's and other information attached to each module.
Outside of this, I estimate the time to be spent on reading/researching will be up to 2 hours per week. This is a very general estimate as it will vary enormously depending on how much of what is needed for graduation you already have in place. It may be there will be a requirement for occasional other 'q and a' calls, and this will be organized if the need is clear at no extra cost.
Starts Thursday 15th February – ONLINE
Next steps:
If you are interested, and want to find out if you are a right match for this, then please schedule a time to talk with me. Email me here
If you are in Australia or that side of the world, the timing of the Module calls may not be suitable for you, so please have a think about that, and get back to me if you still want to go ahead and discuss it.
FAQ:
1. Do I have to be insured?
Yes you will need insurance if you are going to practice using the Before I Go method.
2. Is it a franchise?
No, there is no payment to be made upfront, other than the cost of the training. At this introductory stage, it is not yet clear whether the model will be to become a licenced practitioner of this method, a percentage of profits on the course places sold, or another model.This will be explored, with your input, and in place by the end of the training.
3. How much written work is there?
The amount of written work is kept to a minimum; this training is experiential, and other mechanisms will be put in place to ensure you have understood and integrated the course material.
4. What is needed for graduation?
The minimum needed will be that you have all your legals in place and up to date, and your own copy of the Before I Go workbook fully completed, and attendance at all modules (or listening to the recordings).There may be other requirements that will emerge throughout the course.
5. Is it certified?
You will receive a Certificate of Completion. In the future, the intention is that Before I Go Solutions will either become a certifying body in it's own right, or be associated with a certifying body. Right now for the Pilot training, this is not certified.
6. The cost seems quite high for just 20 hours of training.The actual content includes as much time as you want interacting in the Facebook group, which I will be engaging in for at least an hour a week if not more. Remember also the content of the modules, the MP3's and PDF's that are back up information, the books and workbook,and extra q and a sessions as needed, and you have a full course which I feel is excellent value. If cost really is prohibitive for you, please contact me. There are payment plans available and you should never let this be the limiting factor for something that feels right for you.
7. Will there be supervision for graduates?Separate cost or covered by the initial fee?
Supervision is highly recommended and will be available at an extra cost. This will likely take the form of small groups (possibly using the Action Learning Set model) and will therefore be not only affordable but will allow for maximum learning from peers as well as myself.
8. Will there be a standardized price for people running your workshops so that someone in Stroud is charging the same as someone in Liverpool or Sydney?
No. A price for a typical course will be recommended, but what you charge will be up to you.
9. For people running online courses, will we be competing against each other for clients?
No, because the way you run your course will be unique. If you are authorized to do so, you may call it a 'Before I Go' course. Alternatively you may wish to use the tools and techniques in a course of your own.
Please follow and like us: