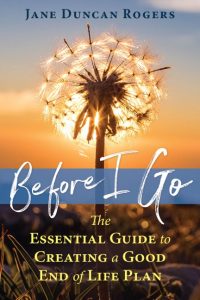 Is it possible to create a good end of life plan?    Yes!
My new book Before I Go: The Essential Guide to Creating a Good End of Life Plan  is now available for pre-order through the publishers website here!   (USA only – available in the UK later in 2018)
Very exciting!
Being published is quite a different experience to self-publishing, which is what I did with my first book, Gifted By Grief: A True Story of Cancer, Loss and Rebirth. 
If you want to know more about the book, you can download a copy of the publishers catalogue here 
Scroll down to page 47 and you will find all the details. 
It was originally taken on by Findhorn Press, associated with the famous Findhorn Foundation, but now been acquired by Inner Traditions.  They are a Mind-Body-Spirit publishers, so if you are not of that inclination, do not be put off!
If you know me, you'll realise I have a healthy dose of practicality mixed with a sense of the spiritual, and the book reflects that.
Please follow and like us: