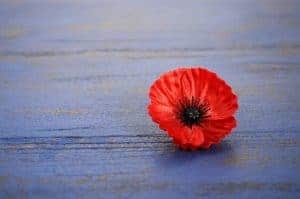 Walking in a beautiful memorial park in Coventry, England, dedicated to the huge numbers of men killed in both World Wars, I felt the peace in the air. All around me on this sunny day, families were out picnicking, playing and enjoying themselves and yet there was still a sense of peace. What a beautiful place was created for these brave souls.
Planting trees in memory of a loved one is quite common these days, and although this park was created by the local council, there's many things can be done to remember your loved one in a more personal way. Here's 9 suggestions.
Turn a piece of their clothing into a teddy bear. This means the owner of the bear has something very special to cuddle, and the creator of the bear infuses the soft toy with a lot of meaning.
Make a patchwork quilt with their old clothes. A similar idea but this time, the quilt or throw becomes something in which you can wrap yourself up, a taste of them through their clothes.
Create a memorial garden or a special area. Not just with a gravestone in a cemetery, but instead something particular to you. It doesn't have to have their ashes there, or for them to be buried there. Just the creation of an area full of life in the form of plants, which you can tend while remembering them.
Keep one of their items of jewellery to wear. Wearing a pendant, watch, ring or other item of jewellery keeps them close to you. While you will get used to it, from time to time you'll also pause and remember them more consciously.
Have their ashes turned into a piece of jewellery. This takes the point above a bit further. There are many sites these days that offer this service, and it's an idea that people tend to either love or hate. But if it appeals to you, discuss it with the person before they die if you can. Allow them to create the design with you – that way it will make it even more personal.
Think of their enthusiasm and use that in their memory. For instance for someone who was a wine lover, plant a memorial vine. If they loved to cook, make sure their favourite recipe is passed on down through the family; or create a new recipe with some of their favourite foods in it. Discuss it with the person beforehand if you possibly can.
Name something after them. It could be a new species of rose, a new dish that everyone in the family loves to eat, a special book, or a star. My husband's daughter gave him a birthday present of a naming a star after him, just a few days before he died. He called it 'Love is the answer'. Now I have the certificate and every time I look up into the night sky, I look at where his star is and think of him.
Host a dinner in their memory every year. Create a ritual to remember them. Often we do this automatically on the day of their death, but I invite you to make this even more of an occasion by ritualizing it. For instance, instead of the family just visiting a grave, they instead do an activity together in the memory of the loved one. Or create something together; eat a meal and toast the person; read some of their words, or watch a video together.
Plant a wildflower area. If the person you loved is someone who loved nature, plant a wildflower area in your garden, or even just scattering some wildflower seeds in the countryside somewhere.
If you care about how you are remembered, you may want to discuss these kinds of things with your family and friends well before the end of your life.
This is just one aspect of an end of life plan that those left behind will be very grateful for, and which is discussed in much more detail in my book Before I Go: The Essential Guide to Creating A Good End of Life Plan, out now in the USA and for pre-order everywhere else.   See here for details: https://beforeigosolutions.com/beforeigoguide/