Facilitator - Julie Nierenberg
I am a freelance writer and editor, a lifelong educator and artist. My heart-led purposes evolved over the past decade to include end-of-life education. In 2012, I was with my father as he transitioned from this life, and that event had a profound and lasting effect on my path forward. In 2013, I published a short memoir about that experience called Daddy, This Is It. Being-with My Dying Dad. Then, in 2017, I co-published (with Victoria Brewster) a collection of 54 unique perspectives called Journey's End: Death, Dying and the End of Life. My training in the Before I Go Solutions methodology opens up new ways of serving others in the end-of-life field.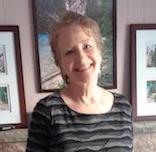 Schedule a free, no-obligation, half hour 'are we right for each other' call.
Complete the form below, giving me a few dates and times you're available to speak to and brief details of how I can help you.
I'll respond within 24 hours during normal working hours.
Look forward to connecting
Explore other Certified End of Life Planning Facilitators