Assumptions are easy to make when we think of how death affects a child, as I learned after my late husband died and then we had another tragedy in the family.
A child's perception of death
Just 3 months after his death, his grand-daughter, aged just 16, also died of cancer. As you can imagine, it was a very difficult time for everyone.
Some months later, their family and I met for a week's holiday in our cottage in Scotland, where we had often all gathered for good times together.
We were going to scatter some of the ashes of both Philip and Becky.
During that week, before the scattering took place, I had a wander round the beach with Sitha, aged 9, (Becky's younger sister) looking for interesting shells and stones.
What happens when someone dies
"What do you think happens when someone dies, Sitha?"
"Oh," she replied easily, "they go up into a kind of floating garden, and Becky has a mansion there with a swimming pool, and Grandpa Philip is beside her, and Michael Jackson is living opposite, and everyone from the Titanic are there too. And they're all really happy."
Tears sprung to my eyes as my heart filled with love, and a smile came to my face.
She was so clear. It was just beautiful to hear how she had explained her sister's death alongside all the other tragedies that were important to her, in her own world.
Later, she drew a lovely picture for me which I pasted into my Memories Book, which you see in the image here.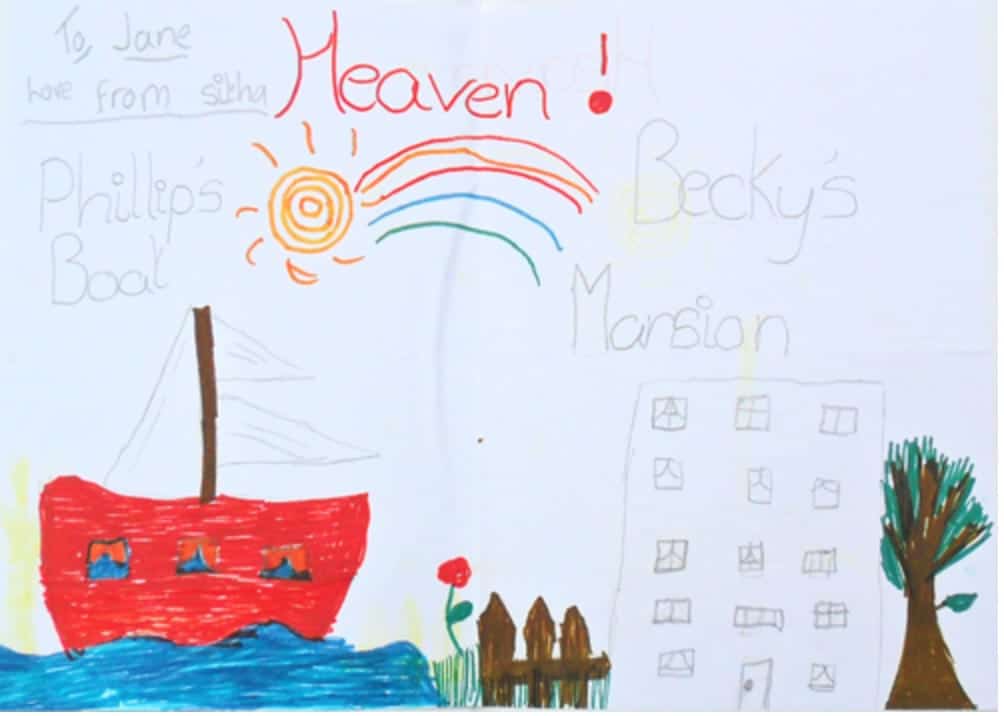 I have often thought about this, as I didn't know what to expect when I asked the question – indeed, I felt brave even mentioning the subject to her!

But to me it was the elephant in the room, and speaking about those elephants is something I am compelled to do, whether they are called End of Life Elly or another name.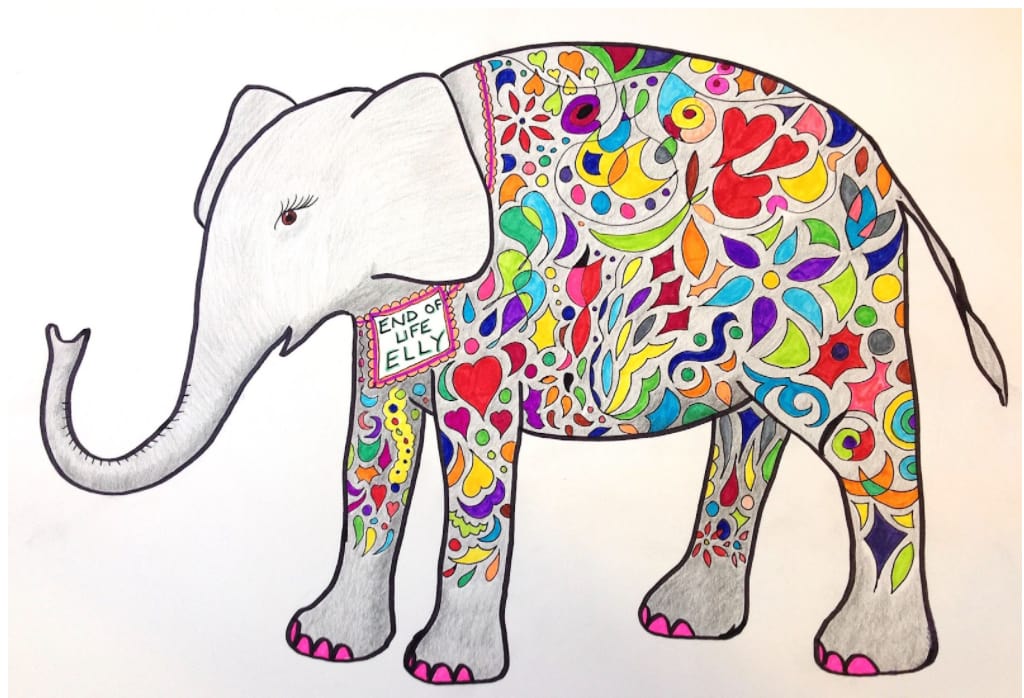 How death affects a child
In fact, children are often much more resilient than we think. So when it comes to how death affects a child, we really need to be open-minded about it.
Of course it depends on their age, but the subject itself is not something we should shy away from.
Because if we are shying away from it, it actually says more about us and our own conditioning about death than it does about the child.
Read my blog post here on how to talk to children about death, and keep your heart open to how a child you know might be processing a death in their life, be it of a pet, a grandparent, a sibling, a parent, a friend or any other relationship.
Be curious
Keep focused on being curious with them about how they are, as opposed to judging them, or thinking they are behaving badly – remember that grief takes many, many forms.
Your curious and open heart will allow them the space that they need.
When you do this, you also allow the door to open to possible gifts.
I know it may sound an impossible thing and I used to think that too.
But there will be gifts hiding in your grief, if you want to find them. Read my post here to find out more.