Imagine receiving funding for your BIGS Facilitator Training?
That's exactly what happened to one of our licenced facilitators!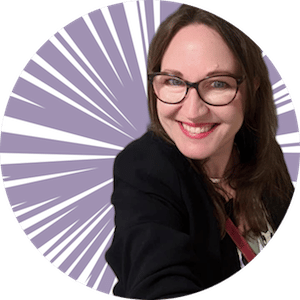 Emma Satchell was successful securing training funding for her place on our BIGS End of Life Plan Facilitator Training.
Emma is now one of our certified and licenced facilitators.
Read our Interview with Emma to find out how she went about securing funding for her training.
---
First of all, can you tell us what inspired you to join the BIGS End of Life Facilitator's Training?
I came across the Before I Go Solutions training through an ad on Facebook.
So I immediately joined the online Info session and knew this was for me!
My role is a chaplain in a Care Home.
I am also part of the End of Life strategy team for the organisation.
My employer, the Methodist Homes for the Aged (MHA), runs care homes, retirement living facilities and community groups for the elderly.
As an organisation we're intent on offering the best End of Life care to everyone using our services.
We do have a final wishes form for our Care home residents.
But as part of my role, I've been pushing for improvements.
So when I came across the Before I Go Solutions course, I knew this was a brilliant fit!
---
You secured 50% funding for this training – congratulations! How did you do this?
I knew MHA, my employer, has a Learning & Development (L&D) fund and so I contacted my line manager about this.
She immediately saw the value of this course for my work.
Not just in the chaplaincy but also as part of my area support role.
She contacted the Director of Chaplaincy and Spirituality – who also thought this was a great idea.
She referred me to our L&D team for an application form to complete.
The business case for funding
This meant putting out a business case for the funding, including the key learning objectives.
I contacted Before I Go Solutions, who sent these for me to include in my funding request.
It was a really straightforward and easy process all round.
Both my line manager and the Director of Chaplaincy and Spirituality put forward cases in support of my application and the L&D team agreed this was absolutely fine.
It was a no brainer for everyone!
They asked me how much funding I'd like and if 50% of the full course fee (a whopping £1000!) would be fine.
Of course, I was delighted!
Even more so, as I'd already decided to do the training whether or not I received any funding.
---
What did you get out of the BIGS End of Life Facilitator training?
When you've done the training and seen the value of all it offers – it still blows my mind!
You have so many tools and bits of information that feed into everything you do.
In my case, in the End of Life strategy team, we're developing the final wishes document further and there's so much I can contribute from my BIGS training.
I already had quite a lot of knowledge in the End of Life field, but the amount I learnt has still blown my mind.
Advanced Care Training
The advanced care stuff was particularly important for me.
It's not something any of us – except perhaps the nursing staff – get much training on.
Now we're rolling out training sessions related to the final wishes document in community groups and retirement complexes where people still live independently.
We're also now delivering training for all our MHA staff – our directors, our reception and kitchen staff.
I'm bringing in my knowledge from the BIGS training all of the time.
---
What would be your advice to others seeking to secure funding for their training?
Five key points come to mind:
Find out if your organization has an L&D fund or possible sponsors
Know who to speak to
Find out what is required and what the benefits will be
Ask for a sum that feels ethical and know what you can give back
Put in your business case application
I was very clear in outlining the costs and benefits to my employer.
So, for example, right now I want to convert my garage into an office for my own End of Life Planning business.
So, I'm aware that to hire a skip for this will cost me the equivalent of what I earn from holding two funerals.
In the same way, I made a case to show that my employer was commissioning a piece of work from me by giving me this funding.
And, I made sure to convey that they would be getting a full return on their investment – and more!
Ask for partial funding
I also asked for partial rather than full funding, as MHA is a charity and from an ethical perspective, I knew this work would also benefit my own personal business.
The funding was also allocated with one caveat – I need to stay in my current employment for 2 more years.
There are no limitations on my role, but I do need to stay with MHA as an employer.
If I decide to leave earlier, I'll need to pay back this funding in part or in full.
Accredited Training
The fact that the Before I Go Solutions Facilitator training is accredited by the CPD Standards Office also made a big difference.
As one of the largest charities in the UK, all MHA staff are constantly required to take e-learning courses in order to keep up with the requirements of the Care Quality Commission (CQC), responsible for assessing care homes and all of the social sector work.
Certain standards need to be consistently met and so everyone needs to be up to date on the mandatory training.
Benefits to the organisation
The more any organisation can show that they have gone above and beyond these requirements, the happier the CQC inspectors will be.
Having staff trained as Before I Go Solutions End of Life planning facilitators in this sector, may increase the likelihood of an organization getting an excellent rating – and this is something to let your managers know!
As a licensed BIGS End of Life Plan Facilitator you are supporting others to complete their own End of Life Plan. How can they best get in touch with you?
I'm based in Tyne & Wear in North East of England. Contact me via my facilitator page here.
---
Securing Training Funding
And that is how Emma Satchell went about securing training funding for her place on our BIGS End of Life Plan Facilitator Training. Emma is now one of our certified and licenced facilitators.
For more funding ideas see How to get creative to fund your BIGS facilitator training.
If you would like more details about our EOL Plan Facilitator training click here.