Recently, an article was published in the Guardian on this subject. But is it really time to get rid of euphemisms about death?
Could it be that if we do this, we are throwing the baby out with the bathwater?
I was intrigued about this idea, and so asked people in a few Facebook groups that I belong to, as well as my own.  As to be expected, there were quite a few responses, but the overwhelming feeling was that whether you use a euphemism or not, being sensitive is key.
For instance, one of my own stories of this is when I returned newly bereaved from the hospital, without my husband by my side. I bumped into a neighbour, who said 'I'm so sorry to hear about your husband's death'.
At that point, I had not heard those two phrases together 'my husband' and the word 'death'. It felt savagely blunt – even though I knew she was simply offering sympathy, and I now know was using the 'correct' word. At the time though, it just felt like she had stuck a dagger in me.
Someone else told me that they saw euphemisms as a colourful part of the English language.
Then a colleague died over the weekend and I saw that someone had posted this on the FB group:
Will had created a cartoon character, so this announcement was totally in keeping with who he was.
However, I think there are three areas to explore, when using euphemisms instead of the words dead, death, or dying. 
Firstly, the use of euphemisms can cause difficult situations
That's because people don't always know what is actually meant. For instance, Julie said:
Or Ian, who when he was a GP many years ago, heard of a surgery that was at the top of a steep hill, with then two flights of stairs to arrive in the consulting room. A patient arrived, and complained about the hill and stairs. Afterwards, having arranged another appointment in a month's time, the doctor, feeling guilty about the hard climb, said 'It's all downhill from here' as they said goodbye at the consulting room door.
In a month, this patient came back with her daughter, having been really anxious, worried she had been told she was dying.
This is macabre humour, perhaps, but how awful for the patient!
And then there was the family who were visiting the vet with their dog, who was very ill. The vet said he would put him to sleep. The family asked when they should come back to collect him. 'Oh, in about an hour or so', said the vet.
So they family returned in an hour, having thought their dog was just going to be given a chance to have a nap.
And then there is loss – one of our most common euphemisms for death is to speak of having lost someone. Sarah said:

And someone else said:

The second issue is about sensitivity.
Sometimes (and occasionally it will depend on someone's belief systems), it just feels too harsh, strong or final to use the word 'dead', or 'death'.  It may be true, but bearing in mind the circumstances, perhaps the use of a euphemism has a place. For instance, if I want to talk about death conceptually, I will scatter my conversation with 'dead',  'dying' or 'death' as well as using several euphemisms, my favourite being 'popping your clogs'. There is something lighter that is brought in, an irreverence that can sometimes be very healthy.
However, using a euphemism as a way of avoiding either your own or someone else's feelings does not work. It is this that contributes to a society that is already distanced from death, simply because of the funeral industry having claimed it as 'theirs', as opposed to the family's or community's death, and the medical profession developing many more ways to keep us alive for longer.   Death naturally has become less known to us as a result.
Meaning we tend to be more fearful of it, just like we are fearful of many things we know little or nothing about.
When a euphemism is used in this context, then it can be clumsy, unfeeling and impractical too.
For instance, an acquaintance I knew who bumped into me a couple of weeks after Philip's death said 'Please accept my condolences'. While this is not exactly a euphemism, it was a strangely formal way of expressing himself, something that belongs on paper, rather than in a face to face interaction, even if you don't know the person very well.  Given my previous story about the word death, they could be forgiven for not wanting to use it!
However, the one thing we probably all need to know when speaking to someone recently bereaved is that nothing you can say will make it all right. Nothing IS right to say. There ARE no words that suffice.
So all you can do is the best you can do, and maybe that means finding a soft way to express yourself, such as I'm so sorry to hear about X, or 'I was so sad to hear about what happened', or even 'No words will do, will they? ' (and perhaps accompanied by a hug or a touch on the arm).
The third thing is to do with emotions.
This links to sensitivity. End of life matters is a subject awash with emotions, or at least we think it will be. Certainly when someone is grieving, or coming to the end of their life, emotions are present, many different ones, and often all over the place.  Sensitivity is precious here, both towards yourself if you are grieving someone's death, or near death, and towards others if they are.
(I nearly wrote 'the loss of someone' – you see how pervasive this is in our minds!).
But it is surprising how many people can talk quite practically and pragmatically about even their own death, when given the opportunity to do so.  Which is what Joy expressed in the Facebook group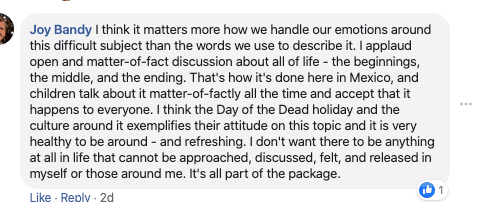 So – what are your favourite euphemisms, or stories using them? I'm always interested in hearing all stories, both positive and negative.  Let me know in the comments!
And if you're intrigued by this discussion, this is exactly the kind of thing we go into in depth in our training, to become an end of life plan facilitator. Next intake is January, and there are only a handful of places left. See https://beforeigosolutions.com/big-training/
for more info – you just have to be passionate about this subject, and want to spread the word more!