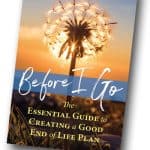 A compassionate, practical guide to end-of-life matters, empowering you to clarify and share your wishes and continue to live life to the fullest.
Before I Go addresses the emotional, spiritual, and practical aspects of end-of-life planning to help you make well-informed decisions about your end-of-life care and prepare well for your death.
Jane Duncan Rogers guides you with equanimity, care, and humour through subjects such as how to have a conversation about dying, the impact of grief on relatives responsible for estate matters, DIY funerals and what that entails.
She states clearly what you need to have in place to ensure the best end of life possible, helps you identify your values and beliefs in this area, and demonstrates which actions you then need to take, and when. With a full resource pack of essential information available to you, including guiding questions, exercises, and recording tools, as well as downloadable worksheets and supportive online courses, decision-making will be much easier and you will find relief and peace of mind knowing you have taken care of outstanding matters.
Read More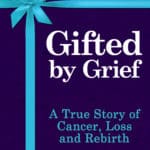 Having had no children, Jane's greatest fear comes true when she is left alone in the world after her husband, Philip, dies from stomach cancer.
Gifted by Grief is the story of how they cope with the diagnosis and what emerges for her after he dies. She describes how, two and a half years on, after all the grief and loss, she ends up stating something she would never have believed was possible: she is grateful for the loss of her husband.
Musings about the meaning of life and death, including excerpts from Philip's blog posts and Jane's journal entries at the time, are interwoven with funny, poignant and insightful stories. This gives a unique insight into one of the most challenging times a relationship can face.
Filled with golden nuggets of wisdom for the reader to pick up and use as they wish, this book introduces the idea that within all grief there is a gift awaiting discovery.
An excellent bereavement book, for those suffering grief from any cause, and also for those who want to support friends or family members who have been bereaved.
Read More