Time Masterclass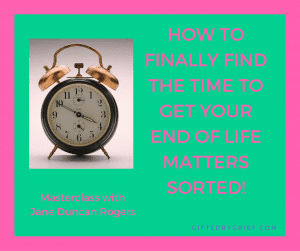 "Leave this class inspired to take the action you've been meaning to take, knowing exactly what to do and how to do it – and bring yourself the relief that comes with sorting all this out, plus giving your relatives considerable peace of mind".
A Masterclass with Jane Duncan Rogers
Get the MP3 recording now!
 FINALLY GET ROUND TO TENDING TO YOUR END OF LIFE STUFF

- WHATEVER IT MAY BE
 and give yourself and your friends and family a great gift of love and peace.
The value I'm sharing with you in this Masterclass will mean you can finally get your end of life matters taken care of. You'll be inspired to just get round to it, even if you've been putting it off for ages!  It's just £15 for an hour of wisdom, practical tips and worthwhile information. 
 What you'll get on this Masterclass
How to Turn Around the 3 Most Common Reasons People Say They Are Prevented From Getting Their End of Life Documentation in Place
When there's something important to be done, and you know you want to do it, but you can't find time to actually get down to it - then something else is in the way. I'll share about what that is in the class, and what to do about it.
The No 1 Thing That is Behind All the Anxiety, Nervousness and Denial About Death and Dying
I'll share about how you can begin to transcend this, so you're free to take the practical actions you know you want (or 'ought'!) to take.
Why Decision Making About End of Life Matters Is So Important for You and Your Family
You'll learn how this impinges on your legal documentation, and how you can deal with it, quickly and painlessly (and have a tool you can use for ever, in all kinds of decision making, not just about end of life stuff).
Get your recording now to learn just what YOU have to do so you can easily tackle your end of life practicalities.