My new book is available from popular online booksellers and your local bookshops.
This Facebook live video was shot the day it came out… the book every home should have

Before I Go: The Essential Guide to Creating a Good End-of-Life Plan
A compassionate, practical guide to end-of-life matters, empowering you to clarify and share your wishes and continue to live life to the fullest.
This new book:
Addresses the emotional, spiritual, and practical aspects of end-of-life planning to help you prepare well for your death
Enables the reader to make well-informed decisions about their end-of-life care and facilitate conversations with family and friends about this difficult topic
Includes guiding questions, exercises, and recording tools, as well as information sheets available for download and supportive online courses
Many people say "I wish I had known what they wanted" when their loved one has died. Too often, a person's wishes for end-of-life care, and for after they have gone, have not been recorded. With this valuable guide, you can now begin to do this for yourself, so your relatives will be able to honour your wishes more easily, saving them time and money, as well as unnecessary stress and upset, at a time when they really do not need that.
GREAT TESTIMONIALS!
"I recommend Before I Go to everyone I know. Creating a Good End of Life Plan is helpful in so many ways.  Not least, it is an eminently practical guide to living your life to the fullest NOW!"

Robert Holden, Hay House author of Loveability and others
"Loving, caring and careful this is a wonderfully practical book for everyone. Sooner or later we all have to manage the process of approaching death – either our own or our loved ones. This single compassionate book will take you through everything you need to know.  The highest praise I can give is that I will use it myself. So thank you, Jane. I am grateful."

William Bloom, holistic educator and author of numerous books
"From spiritual seekers to pragmatists like me, there will be something for everyone in Jane's book. It will help those who've done a journey of loss and grief, those whose health signals a predictable trajectory and those who are hail and hearty and just want to be prepared, whatever the future holds. I feel I can confidently guarantee that whoever you are, wherever you're coming from, you will find something in Jane's words of wisdom that resonate and you'll find yourself thinking "aha, that's why I'm reading this book".

Barbara Chalmers, Founder of Final Fling, author of Too Busy To Die
"Jane Duncan Rogers has produced nothing less than a work of true art in completing this book 'Before I Go'. Those of us who work in the field of death and dying have been waiting for such a comprehensive, passionate, resourceful thoroughly researched manual – I just wish I had written it!  I will immediately recommend it to friends and students. I trust this book because I trust the authenticity of its author. Jane's own face  to face experiences with death when her beloved Philip died, shows us that she knows well the places of rawness in the human heart – I trust Jane as a companion for mine. Having indulged in Jane's  book and having listened to her advice, I have decided " before I go " I will plan my own happy death!

Phyllida Anam Aire, author of A Celtic Book of Dying, and others
---
Gifted By Grief: A True Story of Cancer, Loss and Rebirth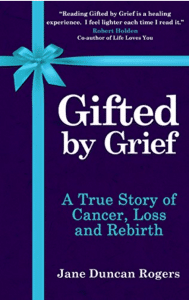 Having had no children, Jane's greatest fear comes true when she is left alone in the world after her husband, Philip, dies from stomach cancer.Gifted by Grief is the story of how they cope with the diagnosis and what emerges for her after he dies.
She describes how, two and a half years on, after all the grief and loss, she ends up stating something she would never have believed was possible: she is grateful for the loss of her husband.
Musings about the meaning of life and death, including excerpts from Philip's blog posts and Jane's journal entries at the time, are interwoven with funny, poignant and insightful stories.
This gives a unique insight into one of the most challenging times a relationship can face.
Filled with golden nuggets of…
For reviews of Gifted by Grief please visit: http://giftedbygrief.com/the-book/reviews/