Facilitator - Sharon Wood
Something I hear over and over again in my work is 'If only we had talked about it, if only we knew what they wanted'.
I have 30 years of nursing experience under my belt, as well as being a Funeral Celebrant, specialising in ceremonies that celebrate the very essence of an individual, and experience of using the Grief Recovery Method to offer thoughtful and constructive support to the bereaved.
When I trained as a nurse there was very little mention of death in the lecture rooms. It was all about preserving life. But even as a young woman I could see that this was rather narrow and my experiences led me to think about death more than perhaps most others wish to. At the same time, I have always been a cheerful sort! I love life and I love to laugh.
Some years ago my dad, a close friend and my mum all died in close succession and I felt the brutality of loss. My life would never be the same again. Some years later a cancer diagnosis and the subsequent treatment, became equally life changing.
I draw on my own personal experience of grief and the importance of talking about death and making good end of life plans, along with my professional knowledge and experience, to help you make an end of life plan which is thorough, well informed and deeply personal to you.
While what I do builds on my life journey, it is really all about you - your end of life plan, your loved ones, your story and your hopes and wishes for living a fulfilled life.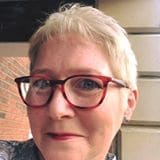 Schedule a free, no-obligation, half hour 'are we right for each other' call.
Complete the form below, giving me a few dates and times you're available to speak to and brief details of how I can help you.
I'll respond within 24 hours during normal working hours.
Look forward to connecting
Explore other Certified End of Life Planning Facilitators