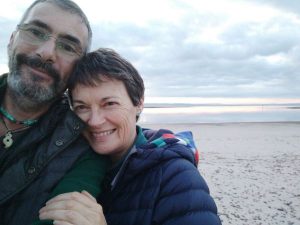 I was asked to write an article for the site Advantages of Age, about how I came to set up Before I Go Solutions after my first husband died.
"Jane Duncan Rogers is the CEO of Before I Go Solutions. Her first husband died when she was 54 which led to awful grief but also the book Gifted by Grief which ultimately led to her end of life planning social enterprise. She lives in Scotland, got married again in between lockdowns plus she and her new husband are building not only a new life but a new eco-house too. www.beforeigosolutions.com
My worst fear had just happened – my husband was dead, we'd had no kids, and I was left alone in the world. Aged 54, too old to be a young widow, too young to be an old one.
That was how my 2012 started. Not a good place, and certainly not a place where I could ever have imagined what has happened since.
In those early months, I knew, in theory, there would be a blessing somewhere in his death, but I wasn't in the least interested in finding it. As grief took its grip on me, and I was tossed and turned by its waves, I just hung on, doing my best to trust that I would survive. And at that time, I wasn't even interested in surviving that much – I didn't actively want to die, I just didn't want to be alive.
But now, I can honestly say…."
You can read the full original article in Advantages of Age's website here:
https://advantagesofage.com/exclusives/my-business-planning-your-end-of-life/